In a cross-lease, owners are 'tenants in common' who have an equal share in a freehold title as well as exclusive use of their own flat/household unit or area. Cross-lease titles are common in New Zealand and it is important owners understand their rights and responsibilities.  
An example of a cross-lease title is where you buy a unit in a three-unit development. While you all own the entire property, each owner cross-leases their specific section from the other home owners. All changes to the property can only be done with the other owners' agreement.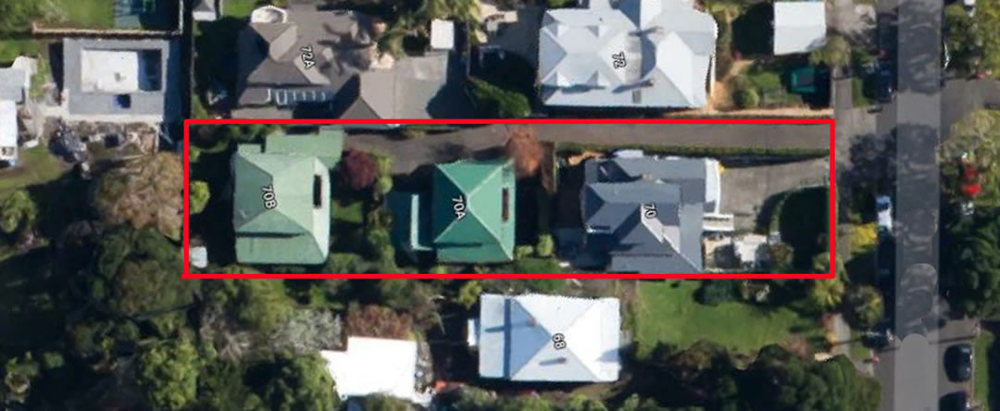 What is the Difference between a Cross-Lease and A Body Corporate?
A cross-lease is not the same as a body corporate. In a cross-lease, you're subject to the rules under your individual Memorandum of Lease, while in a body corporate the rules are under the Unit Titles Act 2010. Many complexes on a cross-lease title will be older blocks as this was the best way to have a shared building community before the Unit Titles Act and body corporates existed. 
In a cross-lease, all owners (known as "Lessors") are 'tenants in common' and own an equal share in the land and will have exclusive use of a unit/flat or area. You may also have exclusive use of a carport or garden, and this will be noted on your certificate of title. 
The building on the land (referred to as "flats" or "areas") is leased from all the land owners to the individual owner (known as "Lessee") who owns that particular flat or area. 


What is a Memorandum of Lease?

 
The Memorandum of Lease forms the basis of the rules all owners in the cross-lease must abide by. It records the obligations and requirements of all cross-lease members and sets out how decisions are made. It will show any restrictions on members, such as: 
Restrictions on alterations / erection of other buildings

 

Restrictions on leasing the flat

 

Restrictions as to the colours which may be used in repainting the flat

 

Restrictions on keeping pets.

 
In addition, the lease may contain obligations of the owners such as: 
Maintaining the common areas (areas not the responsibility of any particular owner)

 

Maintenance obligations on their property.

 

Property insurance. In some cases individual units have their own insurance and in others all owners are required to insure under a single policy with each person meeting a proportionate share of the premium.

 

A requirement to follow procedures when there is a decision to be made or a dispute amongst owners.

 

How costs and expenses are allocated which are not the responsibility of any particular owner (such as common driveway maintenance). These are usually shared on a "land share" basis irrespective of the comparative value of the flats (i.e. if you have a one third share in the land, you will pay one third of those expenses).

 
Alterations on a Cross-Lease Title

 
Alterations to your flat/unit or the erection of additional buildings on your exclusive use area usually require the written consent of all owners.  If you plan on making any alterations you should check with your legal advisor before proceeding.  Depending on the nature of the alteration, you may need to obtain: 
The consent of all owners

 

The deposit of a new "flats plan" redefining the flat.  This would involve a resurvey and a variation of the cross-lease

 

Resource Consent

 

Building Consent

 


Buying or Selling a Cross-lease Property

 
When selling your unit in a cross-lease you are not required to provide disclosure documents as you would if the unit was in a body corporate. However, we do suggest that any Minutes of Annual General Meetings, annual accounts, insurance information and Memorandum of Lease, along with anything else relevant, be given to your realty agent to help them answer questions any potential purchasers may have. A certificate of levies can be provided for a nominal charge from your Crockers Account Manager. 
The "flats plan" must accurately reflect what is physically on the ground. If there are alterations to a flat or exclusive use area that are not shown and the footprint is now different then the "flats plan" is considered defective. This is a particular issue at time of sale and there are normally two options for the vendor: 
Update the "flats plan" themselves, or

 

Enter into negotiations with the purchaser, where the purchaser agrees to fix the flats plan. Note this will normally lead to a reduction in the house price. The purchaser, in certain circumstances, can object to a cross-lease title on the grounds that the "flats plan" is not accurate. This is called "requisitioning the title" and allows the purchaser the right to cancel the agreement if the vendor does not agree to rectify the title.

 
Need Help with your Cross-lease Property?

 
Understanding cross-lease titles can be confusing. If you have any further questions regarding your cross-lease property, our Body Corp and Community Living experts are happy to help!
Contact the team on 09 968 3311 or bc@crockers.co.nz.